Post by Olympia on Apr 19, 2015 0:27:12 GMT -5
Searching for New RETROMORPH Registry File . . .Subject file located, please enter access key now.
Enter Access Key__ ollyollyoxenfree
Processing...
Access granted.
currently viewing file of:
"OLYMPIA"
RETROMORPH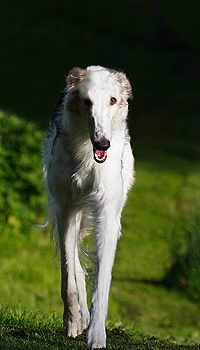 SECTION I - BASIC INFORMATION
| | |
| --- | --- |
| ALIAS: "Olly" | AGE: ~2 |
| SEX: Female | SHIFT FORM: Borzoi |
| SEXUALITY: Heterosexual | GROUP: Nilda |
| RANK: Predator | |
SECTION II - PHYSICAL ATTRIBUTES

| | |
| --- | --- |
| HEIGHT: 3' | WEIGHT: 80 |
| LENGTH: n/a | BODY BUILD: Long, slender body with even longer legs built for speed and running. |
| FUR/OTHER: Long, pale white fur that is almost constantly tangled and in some places matted with twigs and leaves. Her legs almost always look brown or grey from mud and dirt. | EYES: Mahogany brown |
| MARKS: n/a | OTHER: She is half-blind in her right eye after she was attacked by a human. She is also missing one of her bottom right teeth. |
APPAREL: N/A. As Olympia never shifts, she wears no clothes.

SHIFT FORM: Human Form. Standing at 6', weighing in at about 145 lbs. Mirroring her natural dog form, Olympia's body is tall, very slim with long limbs but surprising muscle definition. Long light blond hair, thin and scraggly and often matted. Her eyes are the same deep mahogany brown.

SECTION III - Psychological Evaluation

| | |
| --- | --- |
| LIKES: Her sister, hunting, running, meadows, solitude, warmth | DISLIKES: Humans/Shapeshifters, captivity, deep water, rainstorms, snow, her human form/shapeshifting |
PERSONALITY:
Although this dog has lived a relatively short life of only two years, it has left her as feral as a stray who has spent its whole life on the streets -- and feral is exactly the word to describe her. She is more animal than human, almost completely shuttered off from the "human" creature residing within her. She sees things through a narrow lens, where everything is either a threat, prey, or nothing worth exerting energy over. Everyone she meets is allotted into one of those three categories. Her world is small, and to most eyes sad; but she feels safest when the world is only what she can see, hear, and smell in front of her.

She is the type of dog that will bite anything that is put near her face, friendly or otherwise. She views every human as an enemy, as some creature that is going to hurt her. She is not fond of being touched or pet, even by other dogs. The only being she lets remotely near her is her Sister. While she relies on her sister for company and affection and takes solace in her presence, she feels the most comfortable in her own skin on her own, simply running through the fields and hunting down a rabbit. This dog, for she did not have a name before the Keepers gave her one and still does not identify herself as "Olympia," has a deep fear of humans that extends to Shapeshifters as they smell mostly of human. She does not trust them, not even canine Shifters.

She has a raw, primal fear of her shift form and has been known to go into an almost catatonic state when forced to shift into her human form, unresponsive to almost all stimulation tests including heat and pain.



SECTION IV - SUBJECT BACKGROUND
BIRTHPLACE: Moscow, Russia

CAPTURED: Moscow, Russia


PARENTS: Unnamed Stray, Mother, Believed to be Borzoi Retro, Presumed Deceased

Unnamed stray, Father, Believed to be non-Retro dog, Presumed Deceased

SIBLINGS: Sister ("Odessa"), Borzoi Retro, Captured

MATE(S): N/A

OFFSPRING: N/A

SUBJECT HISTORY:
History should be at least 3 decent sized paragraphs (5-8 sentences each) or about 250-300 words in length. Please include how your character discovered their shifting abilities (if they did), what their life was like prior to getting captured, as well as how they got discovered and captured by UNIT and taken to the Menagerie. Also please remember characters cannot be born inside the labs.

SECTION V - OOC INFORMATION
FACE CLAIM: NICOLE WÖCKE

OOC NAME: mo

PURCHASED ITEMS:

OTHER ACCOUNTS: U CAN'T HANDLE THE TRUTH

HOW'D YOU FIND US?: