Post by An Archaic Yarborough on May 17, 2016 16:10:29 GMT -5
Searching for New ANTHROMORPH Registry File . . .Subject file located, please enter access key now.
Enter Access Key__ UNIT.
Processing...
Access granted.
currently viewing file of:
Tahoe Kai Fayez

ANTHROMORPH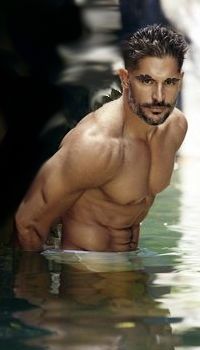 SECTION I - BASIC INFORMATION
| | |
| --- | --- |
| ALIAS: None | AGE: 29 |
| SEX: Male | ANIMAL SPECIES: Saltwater Crocodile |
| ETHNICITY: Hawaiian/Italian/Irish | SEXUALITY: Hetrosexual |
| RING/TRIBE: Nakoma | RANK: Apprentice |
SECTION II - PHYSICAL ATTRIBUTES


| | |
| --- | --- |
| HEIGHT: 7'0" | WEIGHT: 328. 5 lbs |
| BODY BUILD: Large and broad, mostly muscle | SKIN: Olive |
| HAIR: Dark brunette, short | EYES: Dark green |
| MARKS: Various scars on both arms | ABILITIES: None |
MUTATIONS: Two rows of thick scutes run from the nape of his neck to the tip of his plated tail; these scutes form directly from the mutated bones of his spine. His hands and feet are webbed, and the nails have morphed into thick claws with black coloring. Hard ridges form out of his brow-bone and his teeth are terrifyingly sharp. Increased blood-oxygen levels, adjustable heart rate, increased size, and a throat flap.


APPAREL: A torn pair of cargo shorts.


SECTION III - Psychological Evaluation


| | |
| --- | --- |
| LIKES: The water, short girls, barbecue, fruit, running, helping people, daytime, animals, children, bad jokes, dancing, drums, wood sculpting, fishing, sun-naps, wrestling. | DISLIKES: Negative people, tempers, cold weather, bologna, stupid people, thievery, fighting. |
PERSONALITY:
Tahoe is a people-person. Not in the sense of being sociable; he is definitely not a talker- but he enjoys the company of people. He is a watcher, a listener, and a thinker. He is the one at the party standing alone in a corner to watch the whole room, listening to funny stories and watching scenes unfold like a movie in front of him. He gives off the air of 'big, pretty, and dumb' but he is anything but stupid. He soaks in information like a sponge and files it away for possible use later on, if he doesn't know something he bases an assumptive theory off of his collected information. If he finds that his assumptions are correct later on in life, then that's fine and good- the same goes if he is proven wrong.
Tahoe is a pacifist, and refuses to believe that something can't be solved in a peaceful manner; only the vilest of humans must be dealt with by aggressive means. He tends to think the best of people, even the scientists that experiment on them- he figures that they are just doing what humans have always done; study and disrupt in order to advance. Everybody has a reason for doing bad and immoral things, and he is always ready with an excuse to forgive them. He is kind to a fault, and Tahoe deduces that life is too short and full of wonder to hold onto anger for long. The man will go out of his way to help any animal or person in need and expects nothing in return; he treats people how he would want to be treated.
He shows the depth of his personality once somebody actually tries to talk to him, though it is a rare enough occurrence to be an oddity. Even before he came to the dome he was avoided by most people; guys assumed he was a threat and girls were intimidated by him.
Tahoe loves to laugh and play around, though his duties will always be done long before he lets loose- terrible jokes and raunchy language are his forte, always at his own expense. He forms bonds easily and quietly and can get quite hurt when somebody takes advantage of him and his overwhelming trust.


SECTION IV - SUBJECT BACKGROUND
| | |
| --- | --- |
| BIRTHPLACE: Maui, Hawaii | CAPTURED: Darwin, Australia |
| PARENTS: Molly Fayez, Maleko Fayez | SIBLINGS: Wikoli Fayez |
| SPOUSE: None | OFFSPRING: None |
SUBJECT HISTORY:
Before coming to the dome, Tahoe had a happy childhood and a decent adulthood. As the youngest son, he was always allowed to run off to the ocean and play, and generally got little to no punishment for his mischief. His big brother would always be with him, and they where very close. Around the age of twelve, he began to grow. His father was an imposing 6'5", and his mother was a respectable 5'9"- so it was assumed that he would be as tall as his parents; but he was ridiculed for his lankiness by his peers and ostracized for being a crybaby- he only had one or two close friends growing up; but he always had a strong desire to fit in. Around the age of sixteen, Tahoe began to fill out into his frame, and people did start liking him then. They would go surfing with him, he was invited to parties, he was asked to play rugby, and he finally had the human contact that he craved. There was one problem; the older he got, the less easy it got to talk to girls. He would often times approach one at school for something simple- if she dropped something or if he had a question in class; they would just mutter and look away. It began to become a bigger problem when he would try to talk to one that he was actually attracted to; they would usually just completely ignore him. The whole thing slowly ebbed away at his confidence until he learned to just sit back and let others approach him first to avoid rejection- he had no idea that everybody was just intimidated by him.
When he was twenty-four, he and his' brother set out for Australia for the waves and ended up liking it enough to stay for the next three years. It was one of those monsters that triggered his transformation and got him caught. Before, he had never really gone through any serious or traumatic episodes, his life had been fairly happy up until his accident- his father had hidden his secret and just assumed that his genes didn't get passed onto his offspring when they never showed signs.
Tahoe remembered the day very well- he would never forget it. The feeling of deep fear and utter confusion; it was chaotic at best. One moment, he was standing on his favorite yellow board and the next moment he was tumbling through the ocean- the currents pushing him down deeper. He didn't know how long he was down there, but the tell-tale signs of his lungs aching was proof that it was long enough to be dangerous. Tahoe pushed with all of the might his muscles could produce and fought on with spasms of adrenaline. Still, he was too far from the surface. Panicking was never a good idea and yet still the feelings of anxiety and terror bubbled up within him when he was pushed aside by the mighty ocean again; then he saw a shadow.
It passed under his feet closely enough for Tahoe to register a stirring beneath him and yet far enough for the shadow to remain shapeless. The young man didn't know what creature lurked just below his kicking feet, but his fading vision and sense of death spurred some sort of action within his breast. He didn't know what was happening to him when his fingers and toes began to tingle. One moment, he was suffocating and the next, he momentarily blacked out. It was only a second or two, but when he came about his muscles were propelling him upwards without his mental interference. It was almost like he was a passenger within his own consciousness. The surface of the ocean was coming closer at an alarming rate, the colors of the waters were barely registering around him until finally Tahoe tasted air. He sucked in greedy mouthfuls of oxygen until his lungs ceased their spasms and it was then that he noticed with a touch of horror that he saw rough mud-colored scales in his peripheral. Tahoe tried to scream but produced a deep hiss instead. He knew the truth at that moment. He quieted his thoughts and willed his mind to be clear while taking steady breaths and glancing around him. It seemed that the tides had made quick work of his original location; he had the currents to thank for his much-needed privacy. His brother was probably scouring the waters for him by now- Tahoe needed to get back to him before his brother called the authorities. It didn't occur to the young man that he was a criminal now, a pest to be exterminated. To him, he was just Tahoe; and he hadn't done anything wrong. When the realization hit him, he had already caught sight of the beach hosting a gathered crowd of onlookers and four boats searching for him. Tahoe wanted to put as much distance between him and them as he could, but he was already so tired and had slipped into his human skin once before he quickly regained focus and willed his form to stay by silent prayers and nervous concentration. The crocodile made it to the shore well out of sight of the others and did not let up on his diligent guard until he was within the safety of the tropical island greenery. Tahoe planned to wait out the search party and head home in the dead of night to explain to Wikoli what happened; his brother would understand and help him come up with a fabrication to explain his survival. After that, everything would go back to normal with the slight addition of a new and horrible secret. He watched the boats circle and change course for a while before his tired and battered body began to get blurry; though he tried to keep his sleep at bay it overtook him without much of a fight and he fell asleep in the sand with the gentle tickle of the elephant ears around him.
Tahoe thinks that his snoring gave him away. He awoke with a startled yelp when a tittering of voices became loud enough to rouse him from a very deep slumber and his eyes were barely cracked before a series of beeps next entered his ears as shrill as a baby's cry. Wikoli was hovering above him along with a large circle of unfamiliar faces.
"Tahoe! You ass!"
It had been some years since Tahoe saw his brother cry, but there he was with water trailing down his cheeks.
"Back up!"
He heard a high-pitched female voice demand. A red and white uniform came into view along with a calm and rather plain face. She whipped out a silver cylinder that stretched from palm-sized to forearm with the flick of her wrist. There was a tiny clasp at the top of the long rod and she caught it with quick fingers before pulling out an attached sheet of deep blue plastic. The woman turned the little clasp downward and the plastic sheet obeyed her command by laying stiff on its own.
"Legs and arms spread, please."
Her command was made with a tone that was devoid of emotion; cold professionalism, and Tahoe did as he was told. She was probably just checking him for injury. Her fingers tapped the sheet-turned-screen and a series of white diagrams and characters popped up that he could dimly see through the underside. She tapped her fingers a few more times and began her scan in earnest by making a slow sweep of his body with the viewing aid of her medical contraption. It took longer than expected, but she deemed him sufficiently unbroken when it was all said and done. Tahoe's brother exhaled a deep sigh of relief,
"Can I take him home, then?"
"Not quite yet. I need to call the accident in and the officers will need an official statement. Then he can leave."
The crowd dispersed when the situation quickly became dull, but Tahoe's brother sat beside him and attempted to talk him into explaining what happened. The young shifter told his brother that he was not in the mood for conversation but in all reality, he just hated lying; he would tell Wikoli when they were back in their apartment. They sat in companionable silence while they waited on either a nurse or an officer to approach. A few officers finally came to them, but they had cuffs instead of clipboards. There were four of them, big men by normal standards and less than imposing to the two brothers. Tahoe stood up on wobbly legs with the aid of his older brother and the two of them faced the officers with differing degrees of shock. The one with the cuffs spoke up,
"Your status as a homo-sapien has been dissipated, and you are now a property of UNIT. If you come quietly, you will be treated fairly."
Wikoli took a step towards them with squared shoulders and Tahoe slapped a hand onto his upper arm to keep him from doing anything stupid; the officers seemed to be of the same mind when a different one spoke to Wikoli,
"Son, if you engage us you will be charged with treason and taken to prison, I suggest cooperation from both parties to minimize charges."
The younger of the two brothers pulled the other gently away from the confrontation,
"Go home, I'll be fine. I don't want to get you in trouble too."
Tahoe gently gained Wikoli's attention once more and bared into his gaze, willing his older brother to see reason and accept the situation. The older man searched his younger brother's eyes with thoughts of conflict tumbling through his head, mulling over whether he should do as Tahoe suggested and give part of his family up- or live to see another few hours of being free. Never mind the fact that Tahoe was a shifter, though that was a shock all on its own, but that his rights as a human had been stripped away; it make Wikoli's blood hot at the thought.
"Don't be a hero. It'll only bring you grief."
Tahoe said with finality, making the decision for him. The big man approached the officers with his hands held in the air to surrender himself and they cuffed him without hesitation. Tahoe looked back once more at his flabbergasted brother before heading forth into his own questionable future.
After Tahoe was taken away, he was deemed a sufficient specimen and hauled off to the dome for further study. It was apparently a rare thing to find a large reptilian shifter, even rarer that the shift form retained was the largest living reptile in the world; the saltwater crocodile. They kept him in the labs for a month before releasing him into the dome. Most of the tests they ran on Tahoe involved him swimming about in the water for extended periods of time which was tiring for the new shifter, but his speed and stamina increased substantially until they where satisfied with his adaption. Next, they tossed victims into the water for him to fight and eat. Sharks, seals, dolphins, other crocodiles, mammals of every sort- that part really messed with Tahoe. Being the peaceful and loving creature that he was, Tahoe couldn't stand himself after destroying so much life at the behest of the keepers. He tried to resist at first, but survival outweighed morals when they began to really hurt him. They tested him in his human form as well, being the impressive bulk that he was; lifting and throwing, wrestling, killing more animals with his bare hands.
When he was finally released into the wilds of the dome, he took to the rivers and forests of the retro territories and remained aloof and alone. When somebody came close to his home, he shifted into his terrifying form and scared them off; he didn't want to risk getting close to anybody just to have them torn away. So he stayed in self-exile for two years, festering in guilt and isolation; just living simply. It didn't make the naturally social man happy, but duty outweighed content for him.
It was late into his second year that Tahoe was taken into the labs again. One moment he was fishing and the next, on a gurney getting a large shot full of tranquilizing agent in his veins. When next he woke up in a cage he was being monitored by a doctor, checking his vitals and giving him a droning rundown of the long procedure that he had gone through; the next step of the process was crucial to the overall outcome of the whole test. Tahoe stayed in the labs for another few weeks while his body slowly attacked him from the inside out. His spine was consistently cracking and new bones edged through his skin, his gums ached and burned when his teeth elongated and shed soft corners for pointed edges, his brow bone protruded outwards and the bone one again sundered his skin, elastic skin grew between his fingers and toes, his nails thickened and sharpened into black claws, muscles lengthened and bulged, and a mighty tail grew from the base of his spine. Every time there was a new addition to his body the doctor came and measured the growth and marked it onto his clip board until the day that the unbearable pain was replaced with a dull full-body ache. He was done growing and the doctor announced happily that Tahoe was now an impressive seven feet even from his previous six feet and five inches, and had put on another fifty pounds of swollen and aching muscle. His blood was now carrying much more oxygen, which would help with his muscle function; and the underwater tests had proved that his heart rate could now be adjusted by diving rate, along with that, he had a brand new throat flap that would ensure that he did not swallow water when he opened his mouth in it. All in all, a perfect success. He was please with Tahoe's cooperation and the results that came about from the genetic fiddling- they let him go the next day.
Once released back into the wild, he was at a loss with what to do with himself. He tried to travel back to his humble home but retromorph attacks began to become commonplace when once it was unheard of. He attempted to go East but he was attacked there by other shifters as well, so he went North instead and found that hostile creatures where sparser the farther he went. One day in his wanderings, he came upon a clan of creatures just like himself; half man and half beast. Shunned from the rest of the dome and isolated from the others, Tahoe shed himself of the long-standing self depreciation and stepped into his new life with open arms.


SECTION V - OOC INFORMATION
FACE CLAIM: Joe Manganiello


OOC NAME: Anarchy


PURCHASED ITEMS: None


OTHER ACCOUNTS: Zeppelin


HOW'D YOU FIND US?: Uhhh... browsing. I think.