Post by NECALLI on Mar 26, 2011 19:26:58 GMT -5
Searching for New RETROMORPH Registry File . . .Subject file located, please enter access key now.
Enter Access Key__ UNIT
Processing...
Access granted.
currently viewing file of:
NECALLI
RETROMORPH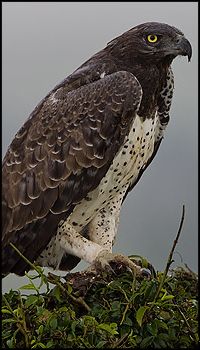 SECTION I - BASIC INFORMATION
| | |
| --- | --- |
| ALIAS: Cal | AGE: (7) 20 |
| SEX: M | SHIFT FORM: Martial Eagle |
| SEXUALITY: Heterosexual | GROUP: Lawaii |
| RANK: Jager | |
SECTION II - PHYSICAL ATTRIBUTES

| | |
| --- | --- |
| HEIGHT: 32 in | WEIGHT: 10 lbs |
| WINGSPAN: 6'6" | BODY BUILD: He has a solid, average build - fit and muscled, if not bulky. |
| FUR/OTHER: Dark brown wings, back, head, and tail. Wing undersides are a lighter brown banded with black, while his chest, belly, and legs are white spotted with black. | EYES: Bright yellow |
| MARKS: N/A | OTHER: N/A |
APPAREL: Blue jeans and a white t-shirt - he rarely shifts to human form, and thus has no need for shoes or warmer layers.

SECTION III - Psychological Evaluation

| | |
| --- | --- |
| LIKES: Naps, heat, lazy soaring, talking about himself. | DISLIKES: Confrontation, being told what to do, rain. |
PERSONALITY:
Necalli is an arrogant, territorial creature. He's extremely possessive, almost paranoid, about everything and anything that is "his." Although he understands what he owes the flock, he shares his kills with greatest reluctance and bad grace. In times of starvation, he might refuse completely. However, while not above bullying smaller birds, in general he avoids confrontation with his superiors. Frankly, he's lazy. Spoiled by his time as a "trained" raptor, Cal will hunt and fight as necessity demands, but no more. If he can get away with napping in the sun instead of working, he'll do it. As a result, he finds it easier to do as he's told than bother challenging someone. Only in the direst of circumstances would Necalli muster the energy to be actively defiant. Similarly, he stays with the flock because it's convenient, easier, not out of any strong loyalty. If it were to become a burden, he would have no guilt in leaving, but for the moment he has committed himself to the Lawaii.

When not busy hoarding his things, he tends to keep to himself. While not purposefully antagonistic, Cal is conceited, narrow-minded, and stubborn, often coming across as shallow. This opinionated, haughty attitude usually conspires to put people off. Easily offended and notably obtuse, it's difficult for him to make friends, let alone keep them. He takes insults and sarcasm far too seriously, and lacks a decent sense of humor - jokes go right over his head. In addition, he is critical and judgmental of everyone, when he actually takes the time to pay attention. Despite not being intentionally callous, he lacks perception, insight, tact, and his self centered nature keeps him from acquiring those traits. Other people slide right under his radar; he is oblivious to their problems and concerns, their feelings and ideas, only noticing their faults. With the latter, he is blunt in expressing his opinions.

As mentioned before, these harsh actions are not deliberate. Cal is simply dense, overindulged and imperious, not consciously mean. Not kind by any standard, he is somewhat friendly - social at heart, he enjoys conversation, especially when most of it involves him talking about himself. With someone he cares about, he is capable of affection, and in general he is forgiving of perceived indignities. For all his faults, all Cal wants from life is to enjoy the simple pleasures. Although affronted by the Keepers assumption that they can capture him at their will, he looks to the brighter side of things, and has settled into this life with contentment.

SECTION IV - SUBJECT BACKGROUND
BIRTHPLACE: KENYA

CAPTURED: SOUTH AFRICA

PARENTS:
FATHER -- UNNAMED RETRO -- DECEASED
MOTHER -- MARTIAL EAGLE -- STATUS UNKNOWN

SIBLINGS:
NONE VERIFIED


MATE(S): NONE

OFFSPRING: NONE

SUBJECT HISTORY:
Born on the African savannah, Necalli was taken by humans as a nestling. His captor and namer was an eccentric British gentleman living in South Africa, an explorer and falconer. Cal was raised to fly and hunt for him, and spent his free time in the large, open air enclosure where the man's birds were kept. It was in this chain-link cage that he discovered his human shift. Still, even with clever fingers at his disposal, he chose to stay in the falconer's care. Life was easy, and in time he was able to learn some of the human speech, which allowed him to eavesdrop on the falconer's conversations, which he found endlessly interesting. As the largest of the raptors there, even at a young age, he was able to bully his way to the top of the pecking order. This, along with the falconer's favor, led to sense of superiority and smugness that carried over to his adult life. He claimed the best perches, the choicest bits of meat. He was king of his own little world. It was then that Cal began to resent the falconer.

Whenever he caught prey, the man would take it from him. He started to realize the insult of this, that it was his food being taken, and took up the habit of slashing at the man's hands whenever he went to collect the kill, or refusing to return to his arm. This rebellion continued to escalate - Necalli was growing more and more annoyed. The man dictated when he flew, when he ate, when he hunted. Eventually, he decided that he'd suffered enough. When the falconer took him out, he lowered his head and snipped through the jesses that were tied about his leg, and leapt into the sky as the human scrambled for the hood.

He traveled north a few dozen miles and claimed his own territory, falling into an easy pattern of wild life. A few months after escaping from the falconer, he was captured again, this time by a net thrown over him as he slept. His captors were bounty hunters; money exchanged hands, and he was turned over to UNIT. After some brief testing, he was released into the Menagerie.

SECTION V - OOC INFORMATION
FACE CLAIM: Dave Annabel

OOC NAME: Rumor

PURCHASED ITEMS: NONE

OTHER ACCOUNTS: TOOMANY

HOW'D YOU FIND US?: IDEK BRO