Post by mo money on Nov 25, 2011 21:34:41 GMT -5
Searching for New ANTHROMORPH Registry File . . .Subject file located, please enter access key now.
Enter Access Key__ ENTER REQUIRED PASSWORD HERE.This can be found in the RULES.
Processing...
Access granted.
currently viewing file of:
ZORA FARAI HENDRIX
ANTHROMORPH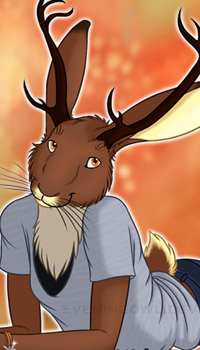 SECTION I - BASIC INFORMATION
| | |
| --- | --- |
| ALIAS: Zo/Zed | AGE: 19 |
| SEX: Female | ANIMAL SPECIES: South African Spring Hare (Caribou splice) |
| ETHNICITY: Dutch-South African (Zulu) | SEXUALITY: Heterosexual |
| RING/TRIBE: Nakoma | RANK: Outrider |
SECTION II - PHYSICAL ATTRIBUTES

| | |
| --- | --- |
| HEIGHT: 6'2" | WEIGHT: 150 lbs |
| BODY BUILD: Very tall and lean with defined, compact muscle and long limbs. | SKIN: Zora's entire body has been covered with a soft, yet thick fur coat. It is light brown in coloration, with a creamy white chest, underbelly (along her belly and torso) and muzzle tip. |
| HAIR: She has no real "hair" to speak of, besides the thick fur that covers her body. | EYES: A bright rusty orange, like the eyes of a hare. |
| MARKS: The colors of her fur most resemble a caribou . | ABILITIES: Agility and Speed |
MUTATIONS: Zora's mutations are more extreme than most. Her facial features are completely hare-like with an extended muzzle, along with the long ears of a hare that stick straight up from the top of her head. Her limbs have grown longer, much like that of a hare and her feet have extended into big, flat paws, and a little hare-tail that pokes through her pants. She has a small pair of antlers protruding from the top of her skull, making her look like a real-life Jackalope anthro, although she prefers to be called a Haribou (Hare+Caribou). Due to her mutated skeletal structure, that of a hare, Zora is truly built for speed and agility, and is extremely flexible. Because of her large feet and muscular legs she is able to leap in great bounds and has a powerful kick.

Prior to Mutations

APPAREL: An off the shoulder slouch tee with a cutoff tank-top underneath, a pair of jean-shorts and no shoes (just really big paws!)


SECTION III - Psychological Evaluation

PERSONALITY:
Zora is a very independent young woman – she always has been and always will be. Able to do mostly anything and everything for herself, she won't easily let other people tell her what to do. Needless to say, Zora takes orders very well once the person giving them has earned her respect, which is not a thing easily earned. She may be friendly and welcoming of your company, but it doesn't mean she respects you or even trusts you. She just has an innately outgoing and social way about her and has a wide circle of acquaintances, but not necessarily close friends. She only has a few of them that she lets past her emotional barriers. Despite her loud, obnoxious and somewhat "addled" bravado Zora is actually quite intelligent and very prideful. She takes pride in whatever she does, and so what she does do she does extremely well, if with a bit of flair and a few giggles. An intelligent young woman with nerves of steel and a long-burning temper.

She has a thick skin and isn't easily offended, probably because Zora herself doesn't seem to have a filter these days. She will tell you what she thinks even if you don't want to hear it. Despite being an orphan for most of her life, Zora has very strong family values and considers the Nakoma her family.

SECTION IV - SUBJECT BACKGROUND
BIRTHPLACE: Johannesburg, South Africa

CAPTURED: Johannesburg, South Africa


PARENTS: Father: Bartol Hendrix, Shifter (Unknown), Deceased

Mother: Nyari Hendrix nee Cele, Shifter (Unknown), Deceased


SIBLINGS: Farai Hendrix, Twin Sister, South African Spring Hare Deceased


SPOUSE: n/a

OFFSPRING: n/a

SUBJECT HISTORY:
Zora and her twin sister Farai were born to a pretty normal family in South Africa. They were of middle class, their parents a Dutchman and a woman of Zulu descent. Zora and Farai were raised learning their mother's Zulu language and cultures loosely, though they were very young and easily distracted and caught up in society and didn't give it much thought outside of their mother's lessons.

When Zora and Farai were fairly young, around 13, their parents were killed in the beginnings of the Shifter executions. Their mother had been captured when she'd arrived at work, completely unaware of the situation at hand. She was executed shortly after. Their father, however, managed to get wind of the situation and hid the girls at a friend's house for a night, who he paid handsomely to keep his daughters safe. He tried to find out where his wife had been taken, to see if he could do anything to save her; but he was captured by UNIT agents, interrogated about his children and when he didn't reveal their whereabouts, was shot.

Farai was a mess; Zora had always been the more independent of the two. They didn't know where their parents had gone, or why they were staying with a friend of their father's; who incidentally, didn't turn out to be the best of friends. Upon hearing about the reward for turning in Shifters, the man and his wife who had been taking care of the two girls for about four days decided to turn them over. Zora overheard the two discussing it late one evening, and knew that she had to get she and her sister out of the house.

Later that night, the two packed their meager belongings, stole a few bits of food (and Zora had earlier stolen a few pieces of jewelry from the woman to sell later, though without Farai's knowledge—her sister would've refused to go if she'd known) and snuck out of the house. Zora remembered that they had an Aunt who lived out in the country. She wasn't exactly sure where, but she knew the name of the town. So they headed out from Johannesburg into the moral rural area of South Africa. Zora managed to find out where her Aunt lived and were in for a surprise when they arrived on her doorstep. There was a strange looking crow sitting on the porch that kept staring at them, and it seemed to Zora to have an intelligence to it. They soon discovered it was their Aunt Iari, who was a shifter like them.

Their Aunt took care of them for a year before the neighbors turned Zora and her family over. They were shipped to the Menagerie--at least Zora and Farai were. Aunt Iari had been caught trying to escape by flying away, and one rather impatient UNIT officer shot her down. Zora and Farai spent about a year in testing together, placed into the Anthromorph program together and kept side by side to examine the effects of testing on twins. Zora was injected time and time again but nothing really changed outwardly--she would get violently sick but, unlike her twin, her body would remain unchanged. Her sister started growing fur and her hands became malformed paw-hands, and she was barely able to move them. Farai suffered for just under a year in Anthro testing before she finally succumbed to the violent mutation process, her body twisted and contorted as her spine was half-hare and half-human.

Zora was released into the Menagerie, still unchanged. The Keepers released her to keep an eye on her, noting her for further testing and examination. For four years she wandered the Menagerie as a Rogue, picking up a few friends along the way, most of whom were picked off by Viruses or decided to join a Ring after the dangers of Rogue life became more and more apparent. Although Zora had nothing personal against the Rings, she tended to isolate herself, becoming withdrawn sometimes hostile to strangers, praying that she wouldn't have to live through the pain of seeing a loved one die like that again.

----

Four years after wandering the Menagerie as a Rogue, Zora was taken in for more testing and unbeknownst to her, had her shift form spliced with Caribou DNA. She was kept in the labs for further Anthropomorph Testing. This time the mutations took and she was transformed completely after the painful mutation process -- for most of it she was induced into a coma to avoid uneccessary stress on her body as they had already lost her twin to the mutations, they wanted this one to be a success. She was awake for most of it, however. Zora was released back into The Menagerie as an Anthro and found the dome changed; those that had been her allies didn't recognize her, didn't believe she was really Zora. Surrounded on what felt all sides, Zora soon got caught in a bad scuffle with a Carna hunting party and was badly injured, managing to limp away. Zephyr, the leader of the Nakoma Tribe, found her and healed her wounds and gave her a bit of food. Grateful, Zora agreed to stay in the Tribe when she learned it was a home for Anthros.

SECTION V - OOC INFORMATION
FACE CLAIM: n/a

OOC NAME: mO

PURCHASED ITEMS:

OTHER ACCOUNTS:

HOW'D YOU FIND US?: