Post by RUMOR on Jul 9, 2013 14:38:59 GMT -5
Searching for New SHIFTER Registry File . . .Subject file located, please enter access key now.
Enter Access Key__ UNIT
Processing...
Access granted.
currently viewing file of:
HOLLY MARIE KINGSTON
SHAPESHIFTER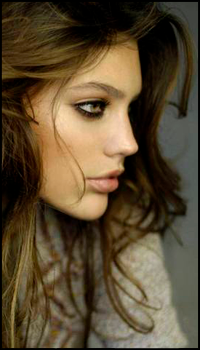 SECTION I - BASIC INFORMATION
| | |
| --- | --- |
| ALIAS: NONE | AGE: 20 |
| SEX: F | SHIFT FORM: GRIFFIN |
| ETHNICITY: AMERICAN, FRENCH | SEXUALITY: HETEROSEXUAL |
| RING: CARNA | RANK: SCOUT |
SECTION II - PHYSICAL ATTRIBUTES

| | |
| --- | --- |
| HEIGHT: 5'6" | WEIGHT: 120 lbs |
| BODY BUILD: Verging on painfully slender, spare muscle gives her a whipcord form. A little more weight would be good for her, and would fill out her figure. | SKIN: Naturally on the pale side, the color warms slightly with time in the sun, but will never truly darken. |
| HAIR: Wavy, glossy brunette, it reaches to the center of her back, usually worn pulled back. | EYES: Clear and level, a stormy, steely gray. |
| MARKS: The Carna mark, a multitude of very faint scars. | OTHER: N/A |
APPAREL: Jeans and a thin gray sweatshirt, worn over a dark red t-shirt. Black sneakers, braided leather bracelet, and a black and white jacket for colder weather. REFERENCE

SHIFT FORM: Holly stands 4 feet at the shoulder, with massive golden brown wings that fold along her sides, the color reminiscent of a Golden Eagle. Her tawny-gold fur is thicker than that of a normal lion, a dense, layered coat that sheds water easily, warm enough to withstand the cold temperatures of altitude. Her feathered eagle's head is accompanied by feathered ears and a crest that smooths on the back of her neck, fading out at her shoulders. The feathers on her throat begin to mingle with shaggy fur of her chest, gradually receding to leave her underside feather free. They return on her tail, creating a "fan" that she can extend as needed to control her flight. Her hind paws are just that - paws - while her forepaws are somewhat different. Though furred, they are elongated and more supple, with defined toes that are equipped with large talons.

SECTION III - Psychological Evaluation

| | |
| --- | --- |
| LIKES: Chocolate, flying, thunderstorms, summer. | DISLIKES: Marriage, cigarettes, whining, bats, weakness. |
PERSONALITY:
Holly refuses to be anyone's fool. Cynical and pessimistic, she assumes the worst of people, and makes no apologies for it. She's wary, especially of people who seem overly nice or helpful. Even in regards to her ringmates and friends, she tends to believe that practicality will win out. As much as she loves her ring, she understands that if they have to sacrifice her for the good of many, they will. And she's okay with that. Holly believes herself to be just as practical - just as callous - and while that might be true concerning most people, when it comes to her family there is very little she wouldn't do. Some might call this blind loyalty, the willingness to sacrifice oneself when they wouldn't do the same for her, but she calls it reality. The whole point of loyalty to the ring is that the majority will survive, at the cost of only a few.

In regards to the rest of the world, though, she is just practical as she claims. While she doesn't go around looking to make life difficult, if there's nothing in it for her, don't expect a helping hand.

Despite her devotion to the Carna, Holly remains fiercely independent and somewhat aloof from her ringmates. She loves them as a whole, not as individuals. A deep wariness of commitment and connection has been ingrained since she was a child, and she's very selective about who she gets close to. Even then, she tends toward distance. She believes that to love someone is to make yourself vulnerable to them, and frankly, that's not something she's interested in.

Good luck trying to change her mind on that - she is exceedingly stubborn, a trait that stems from her pride. Holly is determined to be self-reliant and self-contained, to do everything on her own, to ask for nothing and no one. She can take care of herself, and will lash out at anyone who implies otherwise. As a result, she doesn't take challenge well. Orders from her superiors are one thing, but everyone else had best approach the situation tactfully, or she'll dig her heels in and that will be the end of it.

That said, when not trying to influence her, Holly is not difficult to get along with. Mischievous and occasionally boldly playful, sometimes her sarcasm contains a shred too much truth, but she's not deliberately mean. It's difficult to make her actively dislike someone, and even then, it tends to be a vague feeling. Although judgmental when she bothers to care about an issue, most of the time, she simply doesn't. Instead, she continues with her usual sarcasm, using it to point out perceived flaws without otherwise involving herself.

SECTION IV - SUBJECT BACKGROUND
BIRTHPLACE: WYOMING, USA

CAPTURED: WYOMING, USA

PARENTS:
RICHARD KINGSTON -- FATHER -- HUMAN -- ALIVE

JOCELYN BARRET -- MOTHER -- CONDOR SHIFTER -- DECEASED

SIBLINGS: NONE

SPOUSE: NONE

OFFSPRING: NONE

SUBJECT HISTORY:
The entirety of Holly's adult life has been spent in the dome. Her father turned her over to UNIT the moment the attack on Shifters began, when she was 12 years old. She spent several months in the labs, during which the dome was built, before being released with a group of other children. She fled to the secluded forests atop the Torrentem Cliffs, where her goshawk shift was well suited to survival. Her proximity to the docks is what resulted in her falling in with the CarnaRing when it formed.

Now that she's older, she longs for the freedom of the real world, to be out from under the Keepers' thumb. As a child, however, the dome was a blessing. The Carna were harsh, yes, but that was nothing new, and they actually cared about her, which was more than could be said for her father. Her childhood had been spent in abuse, a constant state of fear, resentment, and sullenness.

Holly never knew her mother, and it's not clear whether she died in childbirth or when Holly was still an infant. One thing is certain, however - Richard didn't know his wife was a Shifter, and he took his anger and humiliation out on the permanent reminder of his union with an abomination. She spent most of her time trying to stay out of the way, and the rest trying to meet her father's demands of "normality." He was terrified someone would find out, and thus alternated between trying to make her appear as a perfect child and trying to beat her into silence.

It worked in one regard, at least - Holly was a quiet child. She kept to herself at school and snapped at anyone who tried to make it otherwise. She was irritable and cold, despite constant threats that the phone calls from teachers needed to stop. Her one friend was Logan, a foster child and fellow shifter, and he was the only one with the honor of being graced with her cynicism and dark humor. Together they spent much of their time roaming the wilds around their small town, avoiding their respective homes as much as possible. They talked about running away, living wild as wolf and hawk, but their plans never came to fruition.

Holly came home from school one bitter January day to find UNIT waiting for her. She has since disowned Richard Kingston - the Carna are her family, and their mark is the one scar she bears with pride.

The eight years spent in the dome were not easy, by any means, but they were - relatively - uneventful. She fought hard to make a place for herself in the Carnaring, and has never been tempted to leave, keeping to herself throughout the politics and conflicts that rip through the dome. Holly has little patience for the other rings, and her focus remains on ensuring the well-being of her own.

SECTION V - OOC INFORMATION
FACE CLAIM: EMILY DIDONATO

OOC NAME: RUMOR

PURCHASED ITEMS: outfit, sight, shift, some other things

OTHER ACCOUNTS: ALL OF THEM EVER

HOW'D YOU FIND US?: I WAS ON THE RUN FROM THE FBI