Post by Khwezi Ndango on Mar 6, 2015 20:23:51 GMT -5
Searching for New SHIFTER Registry File . . .Subject file located, please enter access key now.
Enter Access Key__ reading rules is for squares.
Processing...
Access granted.
currently viewing file of:
Khwezi ÉLODIE Ndango
SHAPESHIFTER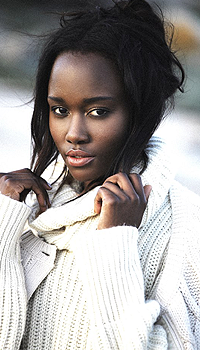 SECTION I - BASIC INFORMATION
| | | |
| --- | --- | --- |
| ALIAS: Puku | AGE: 19 | |
| SEX: Female | SHIFT FORM: Mountain Gorilla + Mandrill Splice | |
| ETHNICITY: Congolese | SEXUALITY: Heterosexual | |
| RING: Fulsi | RANK: Medic | |
SECTION II - PHYSICAL ATTRIBUTES

| | |
| --- | --- |
| HEIGHT: 5'6" | WEIGHT: 145 lbs |
| BODY BUILD: Lean, wiry limbs. Little curves to speak of. | SKIN: Medium brown. |
| HAIR: Black, thick, wavy/loose curls hanging down to her midriff. | EYES: Dark brown, almost solid black. |
| MARKS: Tattoo on her right hand of an elephant. Light mottled scarring on her left arm from old shrapnel wounds. | OTHER: N/A |
SHIFT FORM: Mountain gorilla with a male Mandrill shift mutation. Example., standing height roughly 4.5 ft weighing about 375 lbs; sooty gray fur with silver ticking; after the Keeper's experiments, the face of her shift form is much more mandrill-like with a more elongated snout with colorful blue and red markings, and sharper, much more elongated canines. The fur on her head and shoulders is more of a black-brown and is much longer than that of a mountain gorillas, with a bright white beard of fur around her jaws/chest; a crest of light brown (almost golden) fur with darker bands of ticking is also present as a result of experimentation. Her shift form also has a short tufted tail like that of the mandrill.

SECTION III - Psychological Evaluation

PERSONALITY:
Khwezi

SECTION IV - SUBJECT BACKGROUND
BIRTHPLACE: Goma, UNIT Republic of Congo

CAPTURED: Goma, UNIT Republic of Congo


PARENTS: Mandisa Ndango [Mother, Presumed dead, nonshifter]

Sanele Ndango [Father, deceased, Cape Buffalo shift]


SIBLINGS: Noelle Ndango, Older Sister, Black Wildebeest Shifter, Captured

SPOUSE: n/a

OFFSPRING: n/a

SUBJECT HISTORY:
Khwezi and her older sister, Noelle, were born in Congo, which like all other places on Earth, is controlled by UNIT. Though it was one of the later converts, the country had still been firmly within the powerful government's grasp for several decades. No matter how much the local authorities tried to maintain the charade of independence, all who lived there knew that it was UNIT's mercenaries that kept the country's people in line. Resistance to UNIT flourished there, and Khwezi's father was a leading figure in the resistance. His group was active in protesting and fighting against UNIT's mercenaries, who often took control of situations on their own, leading to widespread violence and bloodshed.

This was the world that Khwezi and Noelle were born into. The family's dinner table was a place to eat together, do homework, and arrange secret meetings where battle plans were discussed in hushed tones. There was no wall between the children, Noelle and sister Khwezi, and the political turmoil that gripped the community. Their parents wanted it that way, in fact, and raised the girls to be staunch opposers of UNIT's violent mercenaries. The family had sense enough not to fight directly against UNIT, but instead hoped to only get rid of the hired thugs that kept everyone living in fear.

Khwezi's parents taught their children how to fight, hand to hand combat and self-defense so they would be able to protect themselves if the worst ever happened, as their world was one of ever present danger. But Khwezi abhorred violence. She went through the motions and learned how to defend herself, but she also trained under the guidance of a local doctor, Dr. Soula, who worked with their group to fight against the mercenaries. She learned a lot about basic field medicine from a young age, and as she aged and was able to handle the more gruesome realities that real field medics faced, she grew more skilled. Even so, while Noelle was training with her parents, Khwezi would often sneak away and wander into the neighboring wildlife reserve. She felt trapped in a life of violence and fear, and the only escape she could ever find was in the simplicity of nature. There was violence there, yes, but it was not born out of hatred or anger. The cycle of predator and prey, the workings of an ecosystem and how everything working in proper order relied on even the smallest organism doing its part, serving its role. That, she could understand. But not the senseless violence she was faced with day in and day out in the "civilized" world.

From a young age she always seemed to have some animal or another following her home, or scooped up in her arms and ready to be bandaged. While Noelle excelled at her duties as a rebel (the causes' eyes and ears) against the UNIT mercs, Khwezi only wanted to heal and help the hurt that had been caused, instead of causing more and more bloodshed. It was on one of these trips onto the small neighboring reserve, followed by her faithful dog Marjolaine (that she'd had since she was a little girl), that Khwezi was nearly killed by the mercenaries – or rather, one of their landmines. Luckily for Khwezi, Marjolaine was there. Marjolaine scented the landmine and triggered it before Khwezi could step on it, taking most of the shrapnel to her side. Khwezi's left arm was injured, but the wounds were mostly superficial thanks to Marjolaine. Khwezi and Marjolaine were picked up by a passing ranger, a woman by the name of Laurel Lupton. Laurel took Khwezi to the emergency room and took it upon herself to get Marjolaine into surgery as well, as she was a veterinarian. She saved Marjolaine's life, and Khwezi never forgot that.

After Khwezi recovered and her parent's took her home, she wasn't allowed to go onto the reserve by herself. She pleaded with her parents to let her go visit Laurel, and soon they relented. It wasn't long before Khwezi was volunteering all her spare hours from school to learn from Laurel, and after she graduated high school she began working there full-time. Khwezi knew then she wanted to become a vet, and started the application process to college and eventually, vet school. She felt that she could finally escape the endless cycle of death and terror the mercenaries inflicted upon their lives, and the lives of their neighbors.

It wasn't until she was eighteen, however, that the bloodshed followed the family home. She was all packed and ready to leave for college the next morning. But that night, late, a band of mercenaries broke into their home. Amidst nervous dreams of a wide open future spread out before her, Khwezi awoke to screams that were all too real. Marjolaine, as old as she was, was immediately at Khwezi's side and ready to protect her from harm. She heard her mother screaming, first, and then her sister shouting for her help—she bolted out of her room, Marjolaine on her heels. A man tried to grab her, but she had him on the ground after a few moments of struggle, knocking him out with a blow to the head. She ordered her dog to sit and watch the man as she made her way down the hall to where she saw Noelle leaning over her father's crumpled body on the ground. The girls were horrified to see their father lying in a pool of blood, assassinated by the intruders. Khwezi immediately went to work trying to save him, using the skills she had learned under Dr. Soula, unaware that it was already too late. Khwezi heard gunfire as Noelle darted out the door after the mercenaries, but was held back by their gunfire. She shot after them, but they got into their truck and sped away, taking Khwezi and Noelle's mother with them.

Noelle and Khwezi were not alone afterward, but became even closer with the rebel group that was like family to them. Khwezi put off going to college, too distraught by the loss of both her father and mother. She worked less and less on the reserve with Laurel, and spent more time getting involved with the search for their mother. Noelle went on more raids than ever, determined to try and find their mother alive, and Khwezi slowly joined her on more and more raids. It was on one of these raids that everything went wrong. Noelle, Khwezi, and a group of ten other rebels broke into an enemy warehouse, thought to hold UNIT prisoners.

They had gone on the word of another high-ranking rebel, Thami, who Noelle had known since childhood; he was her father's best friend and like an uncle to the two girls. When they arrived, the mercenaries were waiting for them, and they were met with a hail of gunfire and a rush of enemies. Shots erupted from behind her as well, it was only too late that the sister realized what was happening; at her side, Noelle fell to the ground, screaming as a bullet tore through her leg. The sisters turned to see Thami firing into their own group, trapping them between himself and the mercenaries.

She tried to get to her sister, but she lost sight of her in the fray. Khwezi managed to take cover, grabbing a gun from one of her fallen comrades. She didn't want to use the gun unless she had to. After fraught minutes of exchanging gunfire and frantic fighting, she was out of ammo and out of options. She managed to make her way to the few of her group who had not been slaughtered in the ambush. They made a mad dash for the back exit, laying down what little cover fire they could manage. Khwezi wanted to go back for her sister, but she first had to take care of the wounded. They made their escape. As far as Khwezi knew, her sister Noelle died that day; unknown to her Noelle had escaped.

Khwezi was alone, her family either dead or missing. She decided that she would find her mother and maybe even Noelle, if they were still alive. She managed to bribe her way into the merc organization, using what little money she had left to buy her way in, paying one of the contacts that they had been working on converting to their side. She spent the next few months as a mercenary, trying desperately to find any trace of her mother and sister. She was tested time and time again the lengths she would go to prove her loyalty, from thievery to violence. She was used as a honeypot more often than not to gather new recruits. She even had the symbol of the mercenaries tattooed on her hand: the head of a wild bull elephant. But the point came when she was no closer to finding her missing family, and they asked her to kill someone.







SECTION V - OOC INFORMATION