Post by Mylo on Jul 10, 2015 23:05:32 GMT -5
Searching for New RETROMORPH Registry File . . .Subject file located, please enter access key now.
Enter Access Key__ UNIT
Processing...
Access granted.
currently viewing file of:
Mylo
RETROMORPH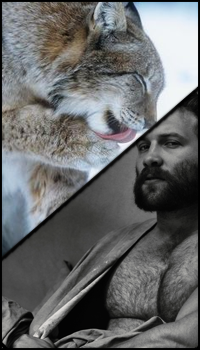 SECTION I - BASIC INFORMATION
| | |
| --- | --- |
| ALIAS: Raspberry | AGE: 4 Years Old (Looks 32) |
| SEX: Male | ANIMAL FORM: Eurasian Lynx |
| SEXUALITY: Homosexual | GROUP: Analoya |
| RANK: Hunter | |
SECTION II - PHYSICAL ATTRIBUTES

| | |
| --- | --- |
| HEIGHT: 75 cm (30 in) | WEIGHT: 36kg (79 lb) |
| LENGTH: 130 cm (51 in) | BODY BUILD: Fairly large. Relatively long legs, with large webbed and furred paws that act like snowshoes |
| FUR/OTHER: During summer his fur is reddish or brown coat, which tends to be more brightly colored. In winter, however, this is replaced by a much thicker coat of silky fur that varies from silver-grey to greyish-brown. The underparts of him, including the neck and chin, are white at all times of the year. His fur is marked with dark spots, although the number and pattern of these are highly variable. | EYES: Light Brown |
| MARKS: N/A | OTHER: He's been told his paws feel unnaturally soft. |
SHIFT (HUMAN) FORM: When shifted Mylo takes the form of a sexy Aussie Male who is approximately 6'1" in height, weighing at 206 lbs of pure perfection. Besides his amazing draw structure which is only highlighted by his thick beard. He has striking and demanding face. He has hazel brown eyes that have blue eyes, often appearing to change color from a hazel blue to brown depending on the light cast on them. He has a muscular toned body which he often likes to show off, with his open hoodie. His hair is often faded at the sides and brushed along the top. However in the summer he has been known to have his hair and beard shorter. His skin is white in color. He also has two tattoo's along his arms. Click!


SECTION III - Psychological Evaluation

LIKES: ►Blowing Raspberries - Mylo loves to blow raspberries, often he uses is it to mock someone, other times he just does it because he wants to. For him it's often also used as an physical expression to him not wanting to do something.
► Riddles - Mylo often enjoys riddles and puzzles of sorts. Due to them requiring a large amount of thinking, and sometimes over thinking. It's a nice change of pace considering that he usually over thinks everything including things that are relatively simple.
► Rain - Mylo loves the feeling of rain, but for the most part likes to watch it as well. The stormy skies, feeling the wind and water. As well as playing in the poodles of the rains aftermath - usually splashing around in it.
► Building - Mlyo likes to build, it keeps his mind moving, similar to puzzles. Needing to put things strategically in place in order to create a solid structure. He usually uses this past time to build shelters for the Den Mothers and Cubs in his spare time. He enjoys making shelters for others - though he wont openly admit it, nor show it in expression.
► Stalking - He thinks its fun to watch and learn about people or things. Seeing how things work and how they react to different situations have always been an amusing past time for Mylo.

DISLIKES: ► Party Poopers - He hates when people ruin his fun. He finds it hard to clear his mind of the many racing thoughts he usually has, and the only time he can really do it is when he's distracted. This is usually in the form of him doing random things or goofing off, sometimes stalking.
► Desert's - A desert is hot and full of sand - sand of which gets stuck in his fur - it's a pain to get out.
► Worms - "Disgusting creatures" are usually what Mylo would refer to them as, he thinks they're gross.
► Illogical Situations - He hates not being able to come to a logical conclusion to as to why something is happening, will happen or has happened.
►Dry Slick Rocks - They're hard to climb up, and often make you slip and hurt yourself. They're only good for sliding and unless they're wet that's a burn rash waiting to happen.

PERSONALITY:
Mylo is a very untrusting and superficial person, he believes in what he can see and feel, and assumes the worse in people until proven otherwise. His personality often contradicts itself. At first glance Mylo usually comes off as very childish, often playing with rocks or small prey smacking them around for fun or tossing them up. Splashing in poodles or water as well as rolling around in fields or playing in trees for fun. He can often become overly excited about almost anything if he finds it interesting. However Mylo often finds himself having to take breaks from doing one thing to long, otherwise he gets bored and no longer finds interest in it - this also applies to people.

Mylo is very analytical to a fault, often over thinking everything no matter how miniscule the thought or issue at hand. He likes reason, and understanding. The more he can understand something or the more information he has about something the better. He often applies this when stalking prey as well. Doing just that; stalking. Watching the preys every move, taking into account as much information he can about them before going in for the kill. Though more than he would like Mylo often finds that there comes a time where logic and reason sometimes goes out the door and it comes down to instinct and whims. Which he is often hesitant in taking. Often if he cannot come to a conclusion on something he can be indecisive, leaning towards what makes the most sense at the time.

Taking a note from him being childish, he happens to be very goofy - feeling as though his younger brother who was always so light hearten and eccentric, would want him to be. Often making jokes no matter the situation, this coupled with him being very shallow and being a megalomaniac makes him come off as a complete jerk. Usually Mylo is also very taunting choosing to use gestures such as blowing raspberries as his signature. Sticking out his tongue and making weird noises doing so, often while smiling. Sometimes he even does it to prey his killed who tried to fight back but no to avail. When he was apart of an exhibit this was taken into account he was given the name "Raspberry."

Though he also happens to be quite the romantic and often those he chooses to let into his life he becomes protective of. Even though he can often be mean to them which is displayed by him bullying them. Though all in good fun. He is there when they are in trouble and if not, he tries to make the effort to be. He became a hunter because he wanted to contribute to his kind, because he wanted to do something good. If it comes down to killing he believes in the order of the food chain and that taking said life is for the greater good. Also that killing cannot be avoided no matter how hard one might try - kill or be killed.

When it comes to second chances he believes everyone deserves to be fought for but not that they are always worth fighting for. As if to say; "Pick your battles." If it comes down to making a decision concerning him and someone who he cares about, he quickly weighs the pros and cons of that person compared to the situation and decides a course of action based on that rather than following his heart. Which sometimes has caused him to push people away, often more than he would've liked.
SECTION IV - SUBJECT BACKGROUND
BIRTHPLACE: Queensland, Australia

CAPTURED: Sydney, Australia


PARENTS: ►Mila (Mother, Alive)
► Dan (Father, Alive)


SIBLINGS: ► Femi (Older Sister, Alive)
► Alick (Twin Brother, Alive)
► Bachee (Brother, Alive)
► Jeff (Younger Brother, Alive)
► Cury (Younger Sister, Alive)
► Koon (Younger Brother, Deceased)

MATE(S): N/A

OFFSPRING: N/A

SUBJECT HISTORY:
Mylo was born into a family who at the time was already on it's way to becoming rather large. His parents where taken from Europe when they where young and relocated as part of a project to preserve them. Due to this they where occasionally monitored however it never posed a problem till later on in his life. He and his family lived comfortably in the wild. Mylo and his twin brother where taught how to hunt at a young. As they always hunted when needed, being raised by his parents and his older sister. His sister was often a big bully to both of them. To which Mylo developed his tendencies from. Often picking on his younger siblings that would be born after he reached the age of one.

He was often the lazy cub of his family, not wanting to do anything. Usually leaving it up to his twin brother. Though he bonded rather well with his youngest brother Koon who insisted on nagging him until he got up and played with him or went hunting with him. Often he would teach Koon the joys of stalking their pray from which Mylo often drew rather sicking amusement from. Koon whoever was often very soft in nature not wanting to hunt or kill if it wasn't needed. This eventually began to cling onto Mylo as well due to him always being by Koon's side. Not wanting to hunt or kill unless it was necessary. Though he was fond of Koon he would often test him, pushing him into harsh situations to try and gain a better grasp on his quirky brother.

After reaching his age of maturity Mylo was taught about the families ability to shift into humans, painful at first but he soon got used to it, as they would shift in secrecy. After Koon reached maturity Mylo took it upon himself to teach Koon how to shift. Unfortunately the spot he choose was meant to test his ability to survive in the world of normal humans. He took Koon into a nearby town after fetching clothes for him. This however was forbidden by his parents as it was dangerous but it was often something Mylo would sneak off and do to past the time. Even gaining himself some tattoo's in the process and further exploring his attraction the same sex.

As he and Koon where in the city, Koon began unable to maintain his shift and reverted back to his animal form. He was spotted in doing so by a group of humans who hated the existence of shifter kind. In order to get away Mylo reverted back to his animal form and he and Koon began to run to safety, however in the mist of it all Koon was struck by a truck effectively ending his life. Mylo stunned by what had happened barely made it back to his family. After telling them the story of what had happened he was exiled and his family relocated to whereabouts unknown.

While wandering parts of Australia by himself Mylo was captured and taken to be part of a Zoo exhibit. During this time he often blew raspberries at onlookers - earning him the name "Raspberry" from the Zoo Keepers. During his time at the Zoo, Mylo would often shift and sneak out of his exhibit to play around the Zoo at night. However once he was caught shifting it was only a matter of time before UNIT came for him and threw him into the Dome.

While wandering the Dome and learning about his kind and the other things that dwell within it - he eventually found his home with the Analoya. Now he lives his life not just for him but in memory of his younger brother. Often trying to keep a smirk on his dull face no matter how small even if it's not genuine.
SECTION V - OOC INFORMATION
FACE CLAIM: jai courtney

OOC NAME: Lustian

PURCHASED ITEMS:

OTHER ACCOUNTS: Asclas Papadios, Chaq balamut, remy screamer

HOW'D YOU FIND US?: affiliates