Post by Sain on Nov 9, 2009 22:02:37 GMT -5
Searching for New RETROMORPH Registry File . . .Subject file located, please enter access key now.
Enter Access Key__ UNIT
Processing...
Access granted.
currently viewing file of:
SAIN NIGHTSHADE
RETROMORPH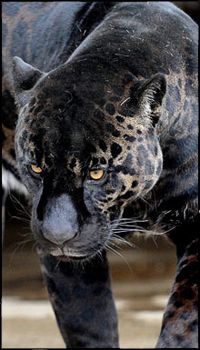 SECTION I - BASIC INFORMATION
| | |
| --- | --- |
| ALIAS: Fuzzface | AGE: 5 (22) |
| SEX: M | SHIFT FORM: Black Jaguar |
| SEXUALITY: Heterosexual | GROUP: Rogue |
| RANK: N/A | |
SECTION II - PHYSICAL ATTRIBUTES

| | |
| --- | --- |
| HEIGHT: 28 in | WEIGHT: 170 lbs |
| LENGTH: 4 ft w/o tail | BODY BUILD: Strong and stocky, but flexible and quick, as most jaguars. |
| FUR/OTHER: Inky black, with various colors back-lighting the rosettes due to mutation. | EYES: Bright yellow |
| MARKS: N/A | OTHER: N/A |
APPAREL: An extraordinarily battered pair of jeans he essentially pulled from a scrap pile, and occasionally a shirt, if he happens to find one.

SHIFT FORM: Just shy of stocky, he stands 5'9" and weighs 160 lbs. His eyes are dark blue, a momento of his mixed heritage. Though he has some color due to his Hispanic bloodlines, lack of sun has left him pale. His hair is black, carelessly cut.

SECTION III - Psychological Evaluation

| | |
| --- | --- |
| LIKES: Sleeping, hunting. | DISLIKES: People, Keepers, being touched. |
PERSONALITY:
Sain is, to put it bluntly, antisocial. He dislikes people, and finds them mildly irritating, particularly when they intrude upon his peace and quiet. He avoids others whenever possible, preferring to remain aloof and solitary. Even when in the presence of people, he doesn't connect to them – he doesn't want friends, or enemies. In part, this is because his lack of socializing skills. He simply doesn't know how to act in regard to emotions or even casual interaction, and is thus awkward when responding to such things. Being unemotional and taciturn, he finds most words pointless and unnecessary. To him, there's no point in stating or discussing things that don't need to be.

Not shy, per say. (The opposite, actually. If he gets an idea in his head that he's determined to see though, he can be very pushy, in an assuming way - he leaves no room for arguments.) He just prefers to stay out of it. Introverted and self-contained, he doesn't bother with other people's business. When he does speak, though, the results can be detrimental to his goal. Sain is straightforward, and doesn't even bother trying to be subtle. What most people see as tact, he sees as ridiculous human complications. They make everything far more difficult than it needs to be, and their underlying understandings, etiquettes, and reasoning continue to puzzle him. In regard to them, he often finds himself asking the question 'why?' However, when on a level that makes sense, he often uses sarcasm and dry humor.

Despite his occasional bewilderment at people, Sain generally has an unconcerned, detached attitude. As mentioned before, he avoids everyone else, as being the center of anyone's attention makes him distinctly uncomfortable. He dislikes being scrutinized and observed, much preferring to pass under the radar unnoticed. A psychologist would say he avoids any kind of intimacy, and they'd be completely right. This can easily lead someone to believe that he is heartless and uncaring, but this is a misconception. He helps when he can, and does so without prejudice, but only when it wouldn't cost him much. While he might pass up a meal or give away a bandage, he's not self-sacrificing.

In addition, there is something feral about him, something not quite human. (This can be attributed to that fact that he's a jaguar, but his personality is a contributing factor.) Sain is wary and independent, and sharply cunning. He sees things with cynical practicality, and usually in black and white. Not temperamental so much as easily irritated, he will make it clear when someone bothers him, but tolerate it for quite some time before becoming truly angry. No, Sain saves his fury for the Keepers, the ones he truly hates.

The Keepers, the glass dome. He loathes them, despises them. There is no fear – rage leaves no room for that. He sees no point to this life, where they will be tested, pushed to their limits until they can go no farther. He would have killed himself years ago, except that he's waiting for a chance to strike back. When he dies, he might as well do his best to take some Keepers with him.

SECTION IV - SUBJECT BACKGROUND
BIRTHPLACE: BRAZIL

CAPTURED: BRAZIL

PARENTS:
CASSA -- MOTHER -- RETROMORPH -- DECEASED

FATHER UNKNOWN


SIBLINGS:
RUE -- RETROMORPH -- LOCATION UNKNOWN

MATE(S): NONE

OFFSPRING: NONE

SUBJECT HISTORY:
As a Retromorph, Sain was raised away from civilization. Jaguar mothers don't keep the males around – he never knew his father. There were two cubs, himself and his sister, Rue. His mother impressed upon him that they were different than both Shifters and humans, and had to stay away for their own safety. The first months went by easily. He played with his sister, started to learn how to hunt, and grew accustomed to his human shape. The jungle fascinated him – he loved the heat, the deep streams that ran with cool water, and the leafy green depths. Then, when he was a year old – about five in human years – the humans came.

During the night they pumped smoke into the den, and Sain and his family fled, bewildered. As they emerged, coughing and half blinded, they were attacked. His mother fought back instantly, yelling for them to run. Sain turned to do so, and saw that one of them had his sister, who was struggling against a rope around her neck. He leaped without thinking, powerful jaws severing the fibers and freeing his sibling. As he did so, a chain dropped around his neck, pulling tight. Rue hesitated, torn between desire to flee and desire to help. Sain growled at her to save herself – he knew there was no way she could get him free without being caught. She turned with an anguished yowl, and vanished into the foliage. Moments after she was gone, he was bundled into a cage, muzzle and paws tied too tightly for comfort. Twisting around to watch through the bars, he could see that his mother still struggled. She was powerful, and fought valiantly against the humans around her. They couldn't subdue her fast enough; she got her jaws around one of the human's throats, and suddenly a blade appeared in her side. She gasped, but with her dying breath tightened her grip and killed the human who had dared harm her family. Sain yowled as she collapsed to the ground, but the sound was stifled by the binding around his muzzle. That was the last he ever saw of his home. He was transported – none too gently – to the Menagerie. His captors named him Nightshade, for his color, but it never stuck. He didn't dare shift to his human form, because he was afraid and felt more prepared and able to defend himself as a jaguar. Not that he had a chance either way. There were too many, and they had weapons that could immobilize him within moments.

Upon being released, it wasn't long before he realized the scope of things. It led him to believe that if his sister wasn't in the city, she must be dead. She was brave – she wouldn't go without a fight, just like their mother. He hid for a long time, fearful and alone. Shifters had formed the Rings, but he didn't trust them. He stayed away, although it did seem to him as if they would be better off forming one big group, the better to hold out against the Keepers. Eventually, hunger drove Sain out into the chaos. He learned to fight and hunt, and discovered he had a talent for both - they were instinctual.

The next few years passed with few events of consequence. He learned hard lessons, and he grew up. It wasn't long before he hated the Keepers and what they represented, and constantly being under a microscope. Often he wondered it was possible to escape by making the dangerous swim out to the ocean, but it seemed that there would be a grate or net of some kind blocking the bay entrance. Finding the mountains, including the lake and the Huntingrounds, was a relief. There he can forget the glass walls that encircle them, and create the illusion of freedom. Throughout that time, he was never taken by the Keepers, and never learned anything about his sister's whereabouts.

SECTION V - OOC INFORMATION
FACE CLAIM: n/a

OOC NAME: rumor

PURCHASED ITEMS: chameleon mutation

OTHER ACCOUNTS: toomany

HOW'D YOU FIND US?: IDEK BRO