PEBBLE
Jan 12, 2011 20:54:21 GMT -5
Post by Noxx on Jan 12, 2011 20:54:21 GMT -5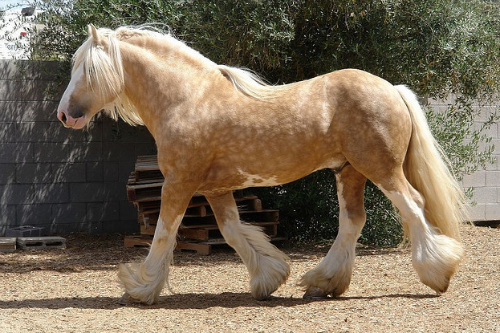 Searching for New Subject Registry File . . .
Retromorph Subject Identified, re-direct in progress.
Subject file located, please enter access key now.
Enter Access Key→
******
Processing...
Access granted
.
Currently Viewing File of:
PEBBLE
RETROMORPH
[/font]
SECTION I____________
[/u]
Basic Subject Information

SUBJECT NAME → Pebble
KNOWN ALIAS → Pebby, Peb.
AGE → 3 (16)
SPECIES → Gypsy Vanner Horse
GROUP → Bellator
RANK → Tiro

SECTION II____________
[/size][/u]
Psychological Evaluation and Background
PERSONALITY TRAITS →
Pebble is clueless, to say the least. Growing up sheltered by humans, she's unaware that anything in the outside world can really hurt her. Whenever there was something scary around, a snake in the stables for instance, the humans always raced in at her family's cries and chased the thing away! So now, she's under the delusion that The Menagerie is her playground. Peb thinks that she can go anywhere she likes, and having a fondness for humans, she even ventures into the Rings at times.
Other than her cluelessness, the humans instilled in her a false sense of superiority. Winning competitions and being pampered for them really affected her mind. There's only so many times a horse can be called 'the best' 'most beautiful' or 'natural champion' before it affects her! Though Pebble doesn't shove this superiority in anyone's face, she does believe it to be fact, and often has trouble when anyone but the herd leader tries to tell her what to do.
KNOWN HISTORY →
Pebble was born onto a breeding farm for show horses, to Rocky Road and Whimsical Fancy, two top class show horses in the Irish Cob class. The palomino gypsy vanner already had an older sister, Puddle, and she looked up to her immensely, both literally and figuratively. Whenever they would play, Peb would follow Pud around. Their father, Rocky, was unusually affectionate fellow to his young foals, and Pebble adored him as well. In fact, she loved to go out into the pasture and find oddly shaped rocks to bring back to him, and he always accepted them as if they were the greatest gift he'd ever received. The humans that ran the ranch soon learned to leave the stallion's pile of rocks alone, or face the wrath of the gigantic horse retro.

Growing up, Pebble noticed that she, her father, and her sister seemed to receive special treatment from the humans. Having human intelligence, she learned to understand what the humans were saying, and they often mentioned her family's oddly-colored eyes, and something called 'retros'. Well, whatever those were, they weren't sugar cubes or blue ribbons, Pebble's two favorite things.

Peb and her sister were pampered and cared for with love and pride, and were often made up all fancy-like to be showed in the town's competitions. They began bringing home winning ribbons at these shows at young ages, and their owners were ecstatic. They praised the two young horses and filled their heads with ideas of glory and power and beauty.
Once Pebble was two years old, old enough to handle the responsibility, Rocky decided to teach them how to shift, as his father had taught him. They only had shifting lessons in the dead of night, and Rocky made sure they knew never to leave the safety of the stables in human form. It was a dangerous world, he said, that even the humans couldn't protect them from. Pebble didn't know what to think about that, really. Running around as a girl was so fun! The humans had always protected her before…

Once the two sisters were skilled enough, Puddle came to Pebble with a crazy, yet genius idea. The two had an insatiable sweet tooth, and loved the sugar cubes that the humans brought in their pockets. "They have to come from the house!" Puddle told her, "And we can go get some!" Pebble frowned and scuffed her gigantic hoof on the sandy floor of her stall. She had trouble with the idea of taking things from their humans. They were always so nice! And Rocky said that stealing was wrong… "Wait! Do you remember that colorful store on the way to our competitions?" The Candy Store. They had sugars there for sure!

Instead of stealing from their humans, the girls shifted and snuck out of the stables right after sunset. They shifted back for the long run to town, but Pebble wasn't tired. This was so exciting! They were out on their own, and going to get sugar as well! When they finally reached the candy store, the owner was sweeping up, preparing to close shop for the night. He gasped when he spotted two enormous horses, standing right outside the door, with no other humans in sight. The man was reaching for the phone when Pebble shifted. "Candy!" She screamed, running into the store with only her long, curly blonde hair to cover her human form. The old man nearly had a heart attack when her sister did the same. He watched as the two naked little girls began stuffing their faces with all sorts of candy, not even pausing for a breath in between bites.

"H-hello?" He spoke quietly into the phone, having ducked behind the counter. "I-I think I have two shifters in my store! P-please hurry, they're eating EVERYTHING!"

When the keepers arrived, Pebble was still trying to shove jellybeans down her throat. It didn't take any force to get her to go with them. It only took the promise of sugar cubes in the back of the suspicious van, and she and her sister were off to The Menagerie.


SECTION III____________
[/size][/u]
Physical attributes and characteristics
GENDER → Female
HEIGHT → 16hh
WEIGHT → 1600lbs
BODY BUILD → Huge and stocky! She's the epitome of a draft horse, except for perhaps, her personality.
FUR → Pebble's fur is a light, creamy Palomino, more blonde than a deep gold with lighter dapples throughout. It's short and close to her muscular body, except on her legs, where long white feathering flies freely in the wind. Her mane is long and nearly white in color, and her tail nearly reaches the floor.
EYES → Dark teal colored.
MARKINGS → Just the white stockings that show in her feathering, and the bold white blaze on her face.
ANYTHING EXTRA →
LOL HER DORKY VOICE: THE ONE WITH THE WHITE COLLAR. XDD Lol I love that voice.
HUMAN DESCRIPTION →
Click to see!
As a human girl, Pebble is thin but tall, standing at around 5' 10"- 5'11". Her blonde hair is long and curly, and reaches her waist. Her eyes are the same dark teal as in human form, and her slightly tanned face is spotted with freckles. Since her incident with the shopkeeper, Pebble has started to wear clothes in human form, usually flowy dresses or anything that she finds pretty.
SECTION IV____________
[/size][/u]
Genetic Background
PARENTS → Rocky Road (Gypsy Vanner Retro, alive.), Whimsical Fancy (Gypsy Vanner)
SIBLINGS → Puddle (Gypsy Vanner Retro, Bellator Tiro)
BIRTHPLACE → Ireland

SECTION V____________
[/size][/u]
Who are you?
OOC NAME;; NAWKS
OTHER ACCOUNTS ;; IN A BAWKS.
HOW'D YOU FIND US? ;; ROFLS.
[/size]